Ken Watson -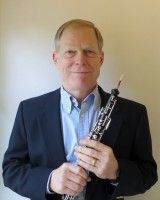 Kenneth C. Watson is a free-lance oboist and composer/arranger. After earning his Bachelor of Music degree in Music Composition from Southern Methodist University in 1974, he was selected to join the U.S. Marine Band, "The President's Own," in Washington, DC. Two and a half years later, he decided to pursue a career as a regular Marine line officer, and went on to fly A-6E Intruder and EA-6B Prowler jets. He retired from the Marine Corps in 1997 as a Lieutenant Colonel after 23 years of service.
Ken then worked in a network security startup which was later acquired by Cisco Systems. After thirteen years developing critical infrastructure protection policies, procedures, and organizations, he retired from Cisco in 2011.
Ken continued to play oboe avocationally and to write and arrange music. He played in the Corpus Christi (Texas) Symphony Orchestra, and substituted in the San Antonio and Austin symphonies. While stationed on Okinawa with the Marine Corps, he was Associate Principal Oboe in the Okinawa Symphony.
His Suite for Oboe and Jazz Piano Trio was premiered in New York City in August 2014. He conducted the partial premiere of his Missa Jubilate Deo with the choir of the Episcopal Church of The Advent of Spartanburg, SC at the Lincoln Cathedral, England, in July 2016. "The President's Own" U.S. Marine Chamber Orchestra premiered his Concerto for Bassoon in February 2017. That year he also completed two suites for band: Simple Songs, an adaptation of the Mass; and Lake Barcroft Haiku, illustrating aspects of life in the Northern Virginia neighborhood of Lake Barcroft.
Ken's current composition focus is to expand the repertoire for double-reed solos and ensembles and for concert/symphonic bands.
Ken studied oboe with Evelyn McCarty, Don Baker, and Eric Barr. He also participated in oboe study and reedmaking trips to France with John de Lancie and Wayne Rapier.